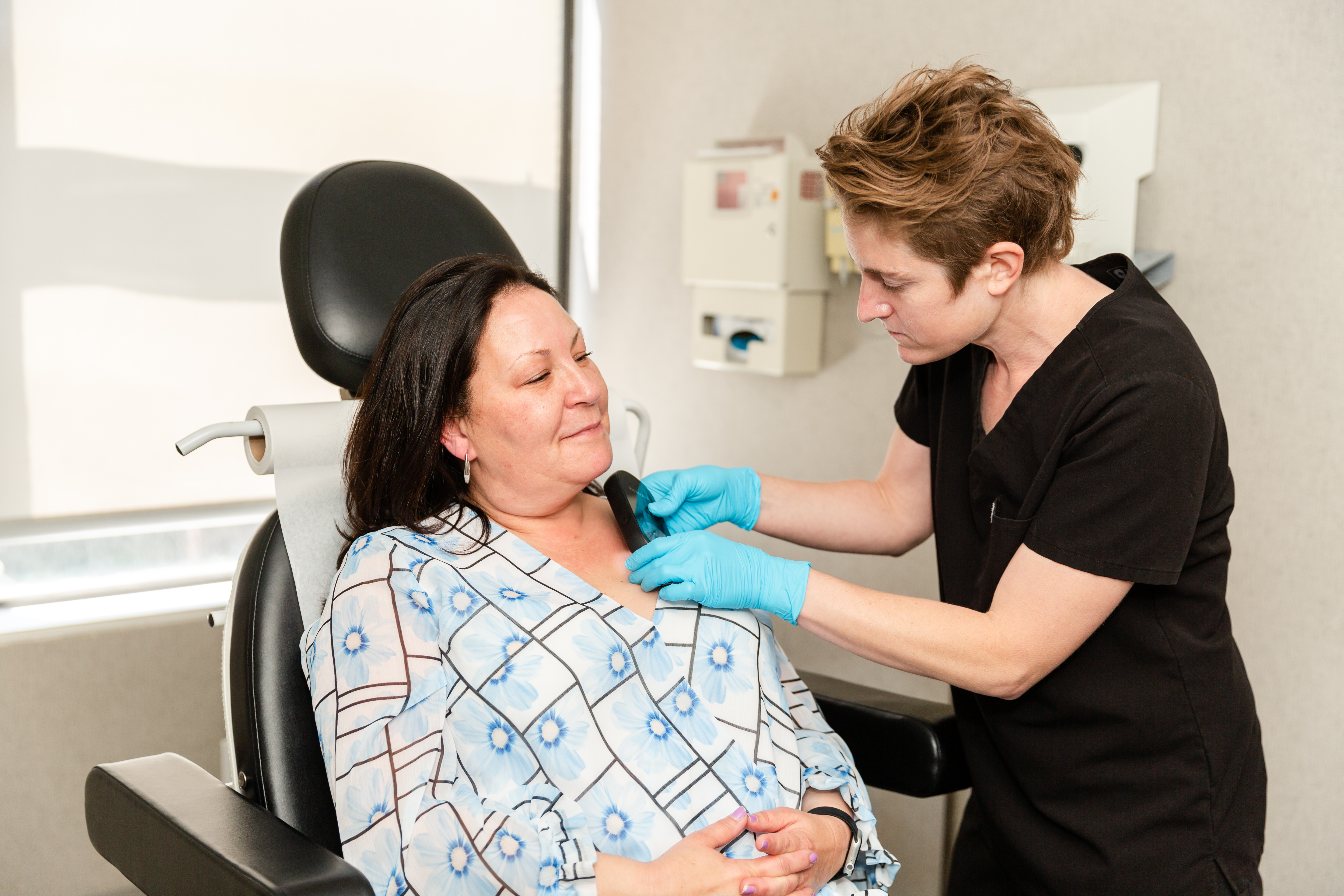 Eczema is an uncomfortable skin condition that impacts patients of every age. While the exact cause of eczema isn't known, scientists believe the immune system may play a role. People with eczema may have immune systems that are working too hard, which in turn makes their skin overreact to certain triggers and break out.
The most common type of eczema is atopic dermatitis, which is a chronic, inflammatory skin disease. Atopic dermatitis can make the sufferer self-conscious about their appearance and even impact self-esteem. Fortunately, there are safe and effective treatment options available at Scherl Dermatology to manage this uncomfortable condition.
Eczema affects 31.6 million people in the United States, which equals more than 10% of the population. Eczema refers to an umbrella of conditions that cause the skin to become inflamed, itchy, and develop a rash-like appearance. It can begin during childhood, adolescence, or adulthood and ranges from mild to severe. Eczema is not contagious, and most children have substantial improvement in their condition by their mid-teens. For others, however, eczema is a long-lasting disease that persists into adulthood.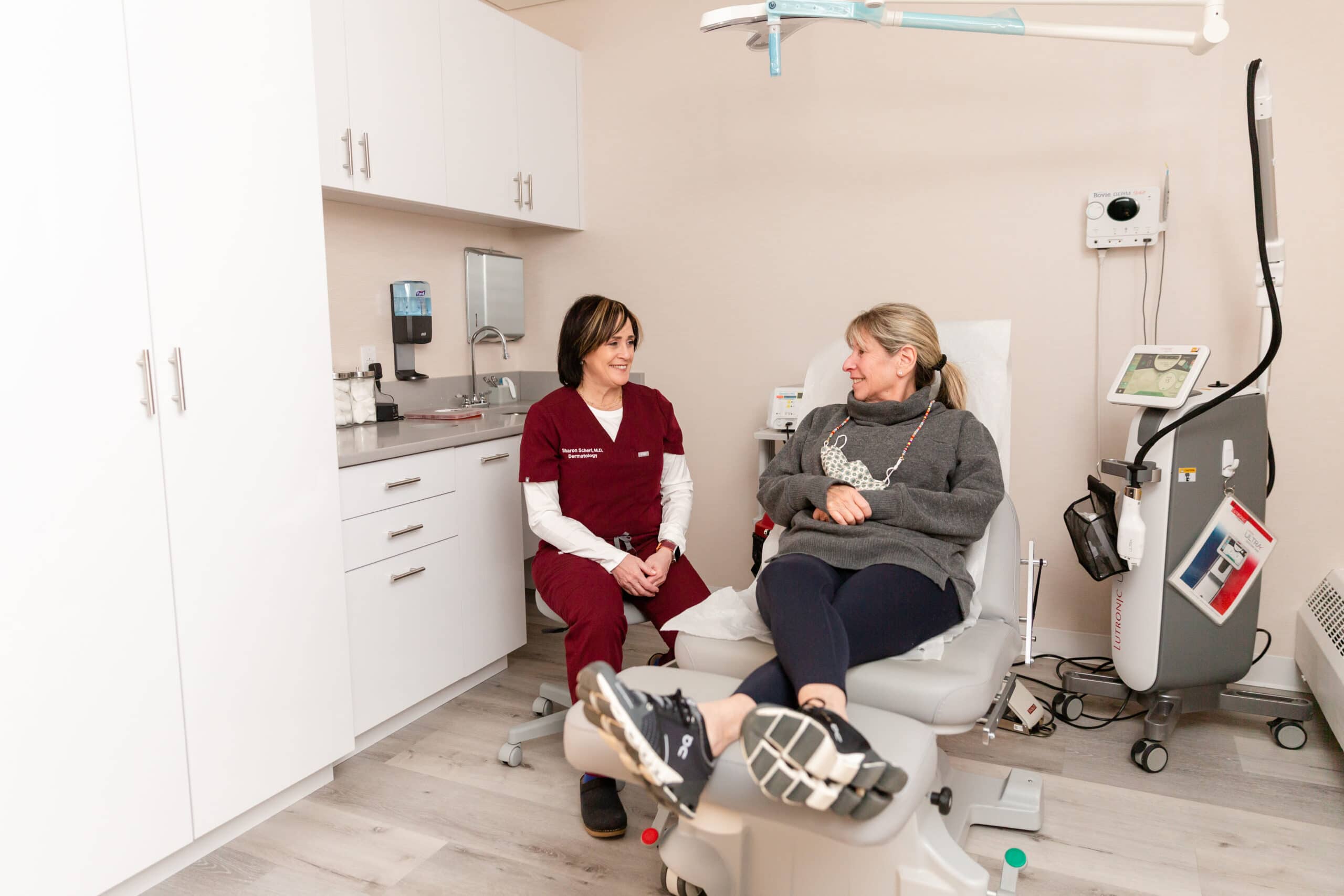 The Different Types of Eczema
There are seven types of eczema:
Atopic dermatitis (the most common type)
Contact dermatitis
Neurodermatitis
Dyshidrotic eczema
Nummular eczema
Seborrheic dermatitis
Stasis dermatitis
Each type has its own unique symptoms and triggers. By identifying your eczema, we can tailor your treatment to ensure optimal improvement in your condition.
What is the Main Cause of Eczema?
The exact cause of eczema is unknown, but studies show that those who develop eczema do so as a result of genetic factors and environmental triggers. Specifically, when a certain irritant from the inside or outside of the body triggers the immune system, it produces inflammation. It is this inflammation that causes the symptoms of the most common types of eczema to manifest. It also tends to develop in people who have allergies, such as asthma and hay fever.
Flare-ups of the itchy rash can be triggered by:
Rough or coarse fabrics
Cold, dry, or damp weather
Household products/irritants like shampoo, detergent, and soap
Animal dander
Respiratory infections
Sweat
Stress
As a chronic condition, eczema cannot be cured. There are treatments, however, that are effective in controlling the itch, preventing flares, preventing infections, and healing affected skin.
For most types of eczema, managing symptoms comes down to these skincare basics:
Being aware of triggers to avoid exposure
Implementing a daily moisturizing and bathing routine
Using prescription and OTC medication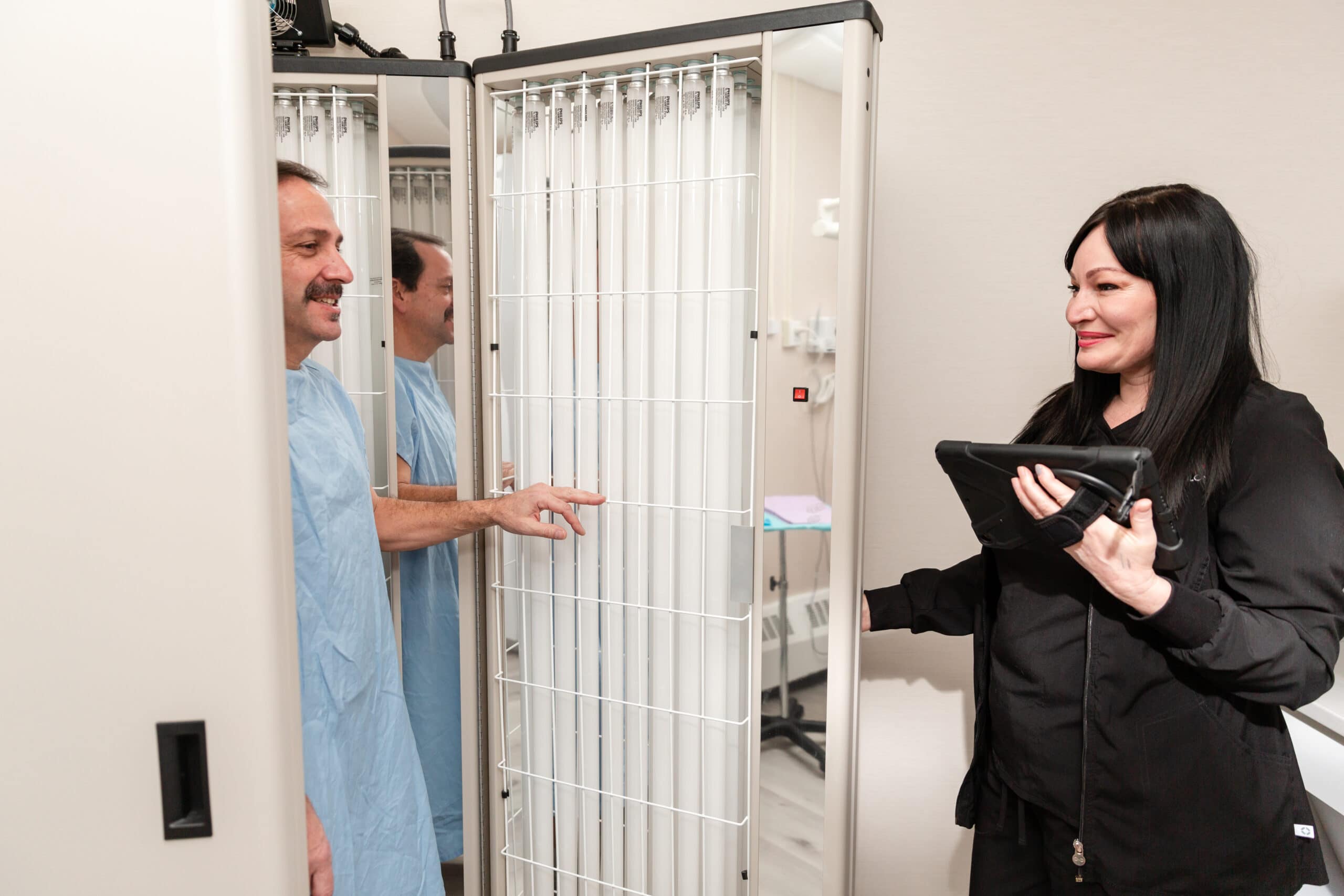 Dermatologists will recommend a treatment plan based on the patient's age, symptoms, and current state of health.
Over the Counter Creams
Topical corticosteroid ointments, gels, and creams are anti-inflammatory medications that are applied directly to the skin. These medications quickly relieve eczema's primary symptoms, such as itchiness and inflammation.
Medical Dermatology Treatments
Treatments done at a dermatologist's office may accompany topical medications to create a more effective treatment plan and achieve optimal results.
Phototherapy can help treat moderate-to-severe eczema. It is also called light therapy or ultraviolet light therapy. The narrowband phototherapy lightbox is Scherl Dermatology's latest innovative device. It is an extremely effective tool for treating inflammatory skin conditions such as psoriasis and eczema. It works by:
Reducing skin inflammation
Promoting healing
Slowing down the growth of skin cells
Reducing or eliminating itch
Boosting the skin's bacteria-fighting functions
Doctors may also use biologics to treat eczema symptoms. These medications are designed to limit immune system response and are administered through an injection or IV. Biologics work by suppressing the specific protein that can lead to eczema flare-ups due to immune system dysfunction. One injection every two weeks can keep symptoms at bay for patients who have not seen sufficient relief with topical medications.
Eczema and psoriasis are like twins –they have a similar look, but they are fundamentally different skin conditions. There are also ways to tell them apart.
The biggest difference between these conditions is their underlying causes. While genetic and environmental factors play a role in developing eczema, psoriasis is an autoimmune disease. This means the immune system is dysfunctional, causing the skin cells to grow too fast.
Eczema usually develops in babies or young children, but symptoms typically improve when they become adults. Adults may have eczema too, but it usually happens as a result of other conditions like hormone changes, stress, or thyroid disease. Psoriasis, on the other hand, usually manifests between ages 15 and 35. However, it can develop at other ages too. It's rare for babies to have psoriasis.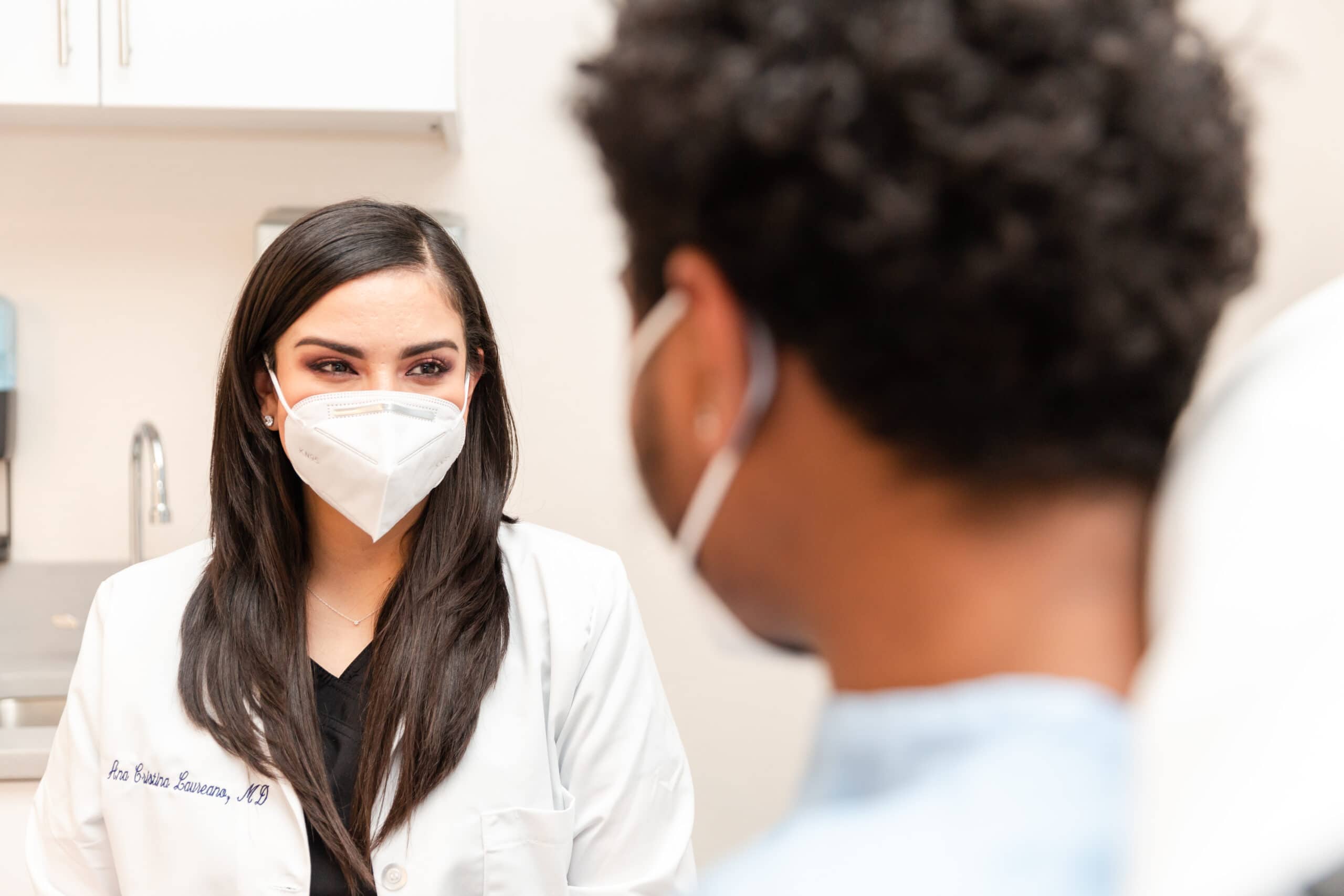 Eczema causes the skin to become red and inflamed. It may also be scaly, oozing, or crusty. Itching can become so intense that patients often scratch enough to cause the skin to bleed. Psoriasis also causes red patches. They may appear scaly, raised, and silvery with thicker and more inflamed skin compared to eczema. Furthermore, while itching tends to be milder with psoriasis, some cases may cause a terrible burning sensation, which patients describe as similar to getting bitten by fire ants.
Eczema and psoriasis can show up anywhere on the body, but they tend to have favorite areas. Psoriasis commonly develops on the scalp, face, elbows, knees, and buttocks. Eczema occurs in these places too, but it most frequently affects the skin on the inside of the elbows and the back of the knees.
LEARN MORE AT YOUR CONSULTATION IN ENGLEWOOD CLIFFS, NJ TODAY
Eczema flare-ups can diminish your quality of life. For safe, effective eczema treatment, contact our office today to schedule your consultation.
Thousands of People in the Metro Area Trust
Scherl Dermatology
CONTACT US
Scherl Dermatology
Same-Day Appointments Now Available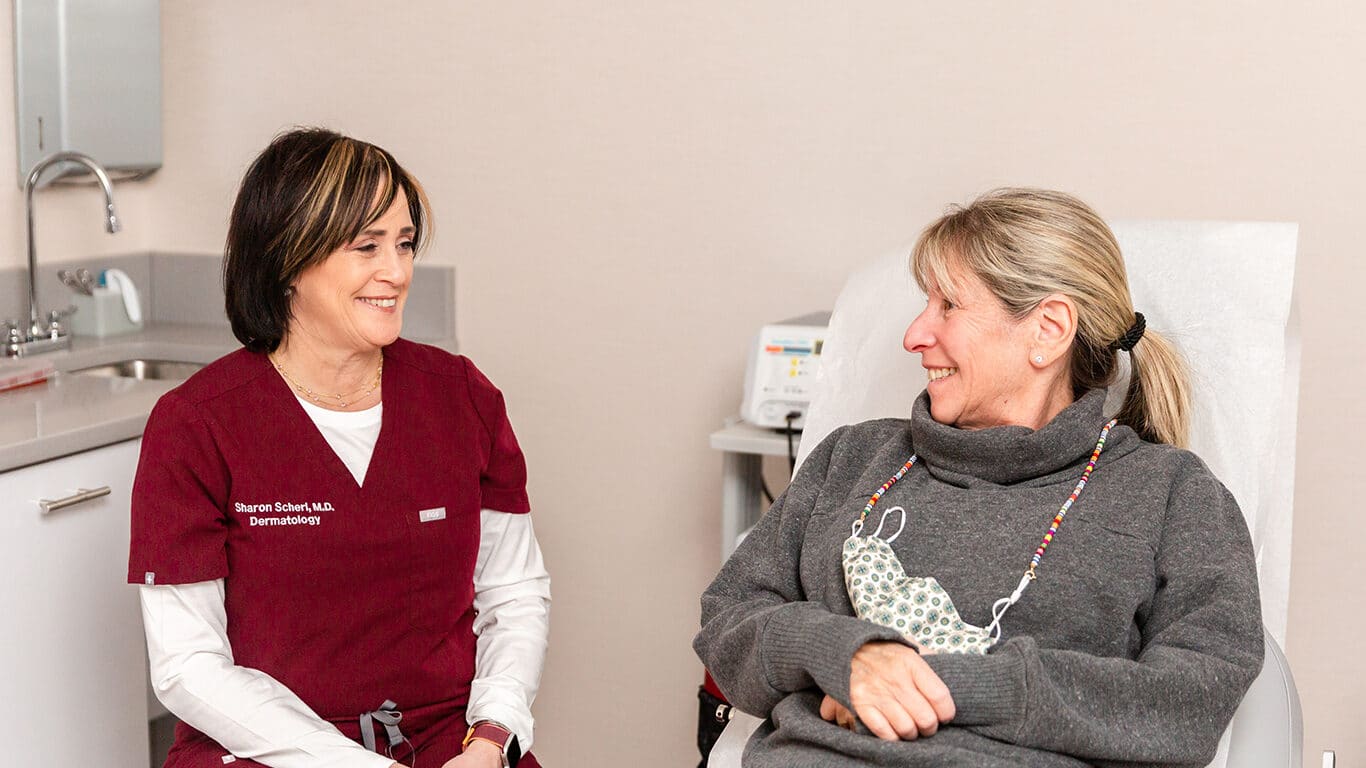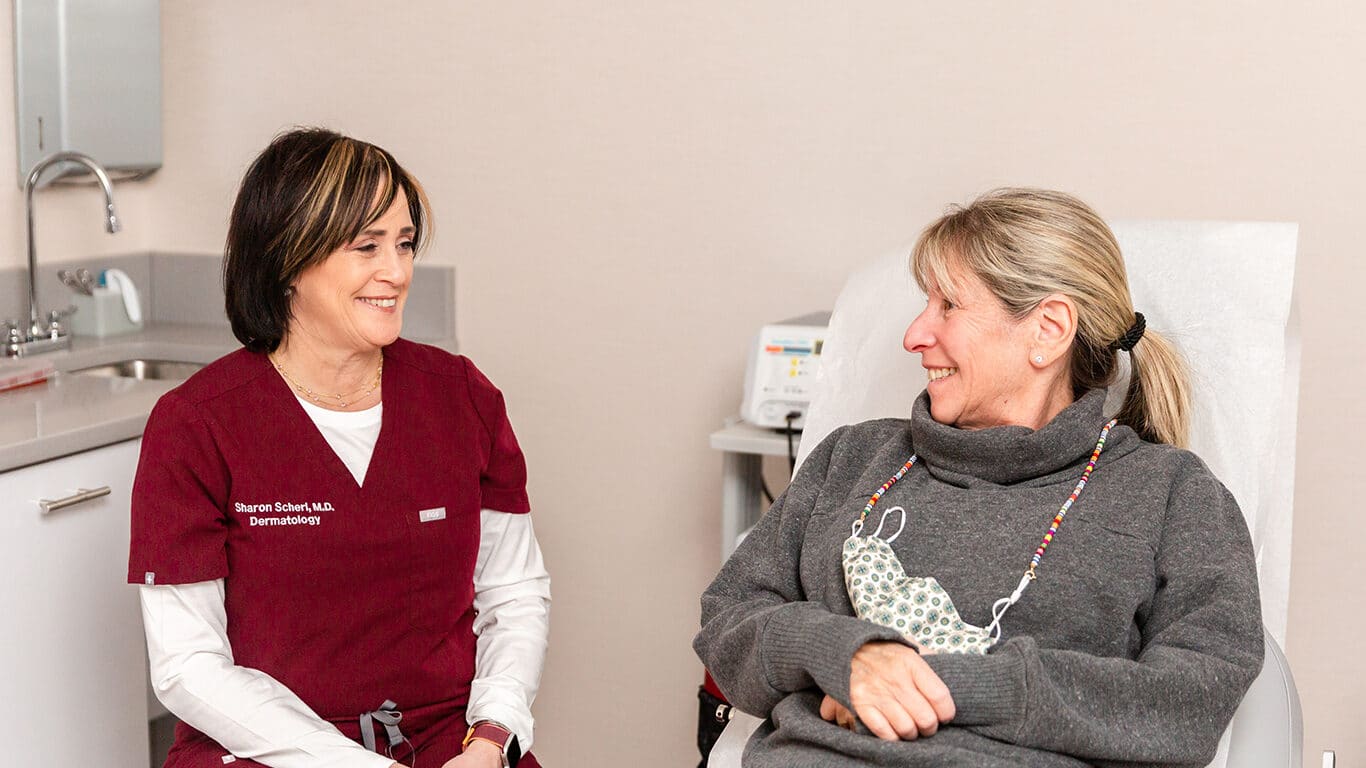 CONTACT US
Scherl Dermatology
140 Sylvan Ave. Suite 302,
Englewood Cliffs, NJ 07632
Same-Day Appointments Now Available
By Scherl Dermatology | ©2023 All Rights Reserved. Design & Development by Goldman Marketing Group | Sitemap | Privacy Policy | The information available on this web site is provided for informational purposes only. This information is not intended to replace a medical consultation where a physician's judgment may advise you about specific disorders, conditions and or treatment options. We hope the information will be useful for you to become more educated about your health care decisions. If you are vision-impaired or have some other impairment covered by the Americans with Disabilities Act or a similar law, and you wish to discuss potential accommodations related to using this website, please contact us at 201.584.5253.