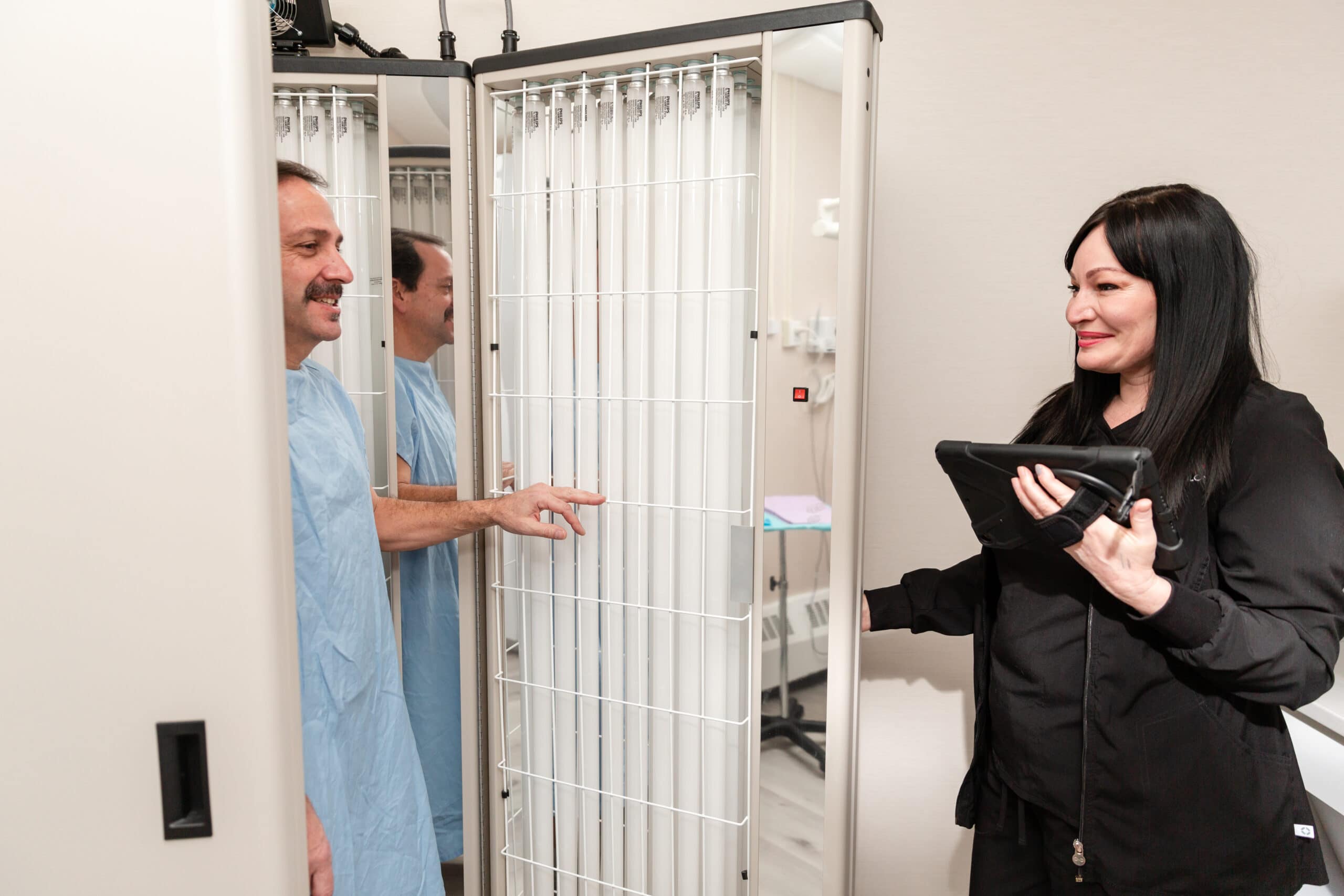 Phototherapy is an innovative new treatment that uses ultraviolet light to target inflammatory skin conditions, such as psoriasis and eczema.
Results Duration: Long-Lasting
Treats:
Inflammatory skin conditions, including eczema and psoriasis
Location:
Primarily used on the face and body
Follow Up:
Some patients may need several sessions to achieve lasting relief
How Performed:
Lightbox directs light throughout the patient's whole body or targeted areas
Preparation:
Topical anesthetic may be applied prior to treatment
Expected Outcome:
Reduction of inflammatory lesions
Onset:
Optimal results appear within weeks to months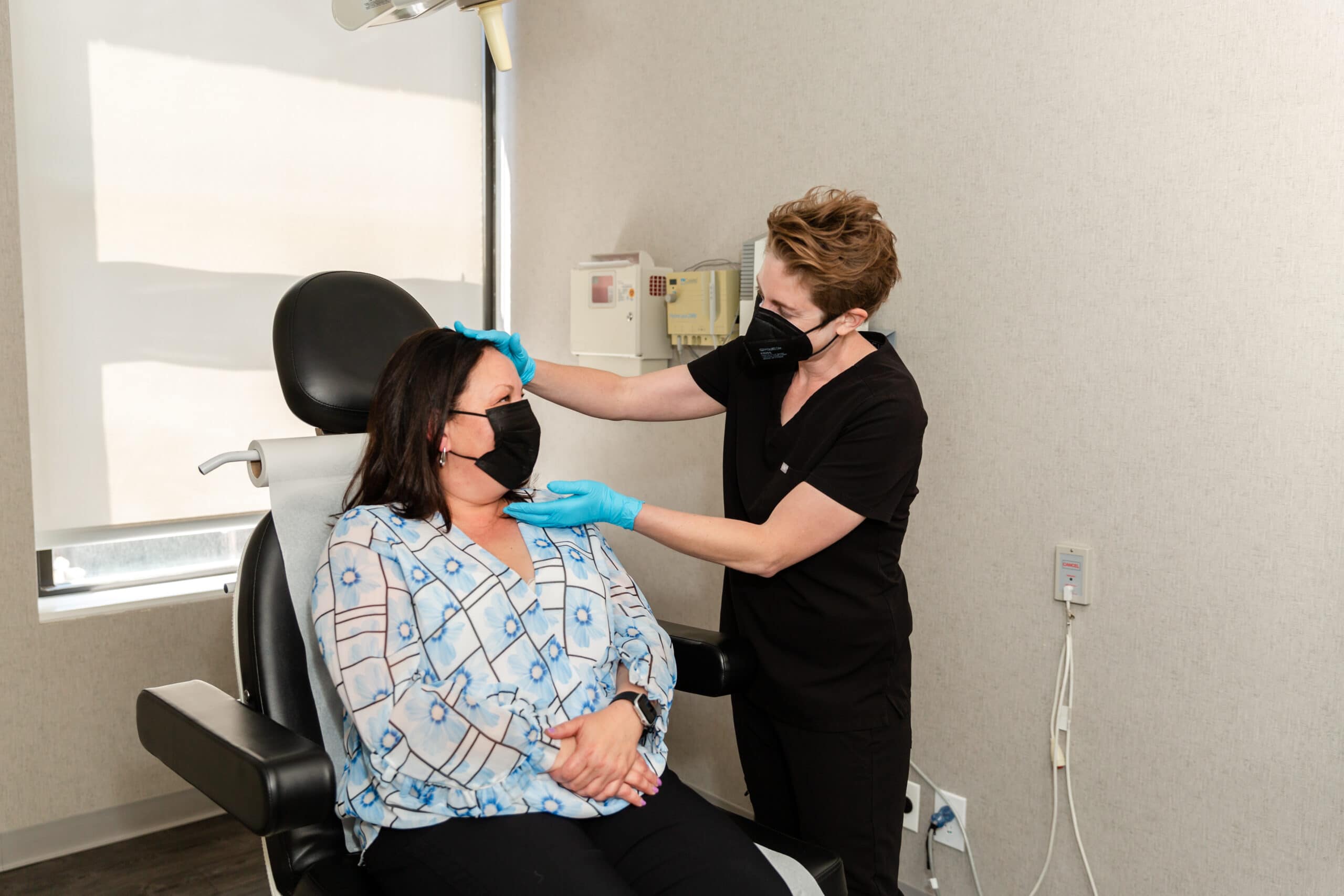 The narrowband phototherapy lightbox is Scherl Dermatology's latest innovative treatment. Carefully controlled, it is an extremely effective tool for treating inflammatory skin conditions such as psoriasis and eczema. Phototherapy can also be used in combination with other topical (applied on the skin) therapies.
Studies show that ultraviolet light is the source of the sun's therapeutic effects. In fact, ultraviolet light can help treat the symptoms of common skin conditions such as psoriasis and eczema. So imagine what UV light can do when it is artificially produced, controlled, and given under supervision by an expert dermatologist.
What Can Phototherapy Treat?
Dr. Scherl Introduces the

Narrowband Lightbox
Phototherapy works by reducing skin inflammation and slowing down the growth of skin cells. Phototherapy is also called light therapy or ultraviolet light therapy.
At Scherl Dermatology, we use Phototherapy to treat skin conditions such as psoriasis, eczema, and itchy skin.
While phototherapy does not cure any of these skin conditions, it can successfully help you manage your condition and improve your quality of life.
Phototherapy works by:
Reducing inflammation and promoting healing
Reducing or eliminating itch
Boosting the skin's bacteria-fighting functions
Increasing vitamin D production
Slowing down rapidly growing cells
The success of phototherapy treatments will depend on consistency. Treatment will need multiple sessions to become effective. Phototherapy is just one of several treatments we offer for these conditions. Our options range from topical medications and moisturizers to systemic treatments that can include pills or injections. 
Once inside the lightbox, light will be activated to treat your entire body or just certain exposed areas. Your first treatment is usually a short one (a few seconds). Treatment will also depend on your skin type, age, condition, and the strength of light chosen by your doctor. Phototherapy rarely lasts longer than a few minutes. Records of your response to the light will be kept, and light will be slowly increased with each of your succeeding treatments.
Initially, most patients will need treatment 2-3 times a week for a total of 20-30 treatments. After a few months, a weekly maintenance treatment will be recommended. Psoriasis and eczema may go into remission for some months before flaring up again.
Phototherapy is considered a safe way to treat conditions such as eczema and psoriasis because the skin is being treated from the outside in. Any possible risks associated with phototherapy are minor and include mild sunburn or an itching or stinging sensation. 
How Effective Is Phototherapy?
According to the National Psoriasis Foundation, 75% of people who undergo narrowband UVB treatments will achieve clear skin and have remission for up to 6 months. 
The National Eczema Association also reports that about 70% of people with eczema get better with phototherapy. Some people find that phototherapy puts their eczema in a "remittive" or "quiet" state long past the end of the treatment.
LEARN MORE AT YOUR CONSULTATION IN ENGLEWOOD CLIFFS, NJ TODAY
Light is a powerful tool for healing the body, and phototherapy capitalizes on the power of sunlight to help heal your skin and make it look and feel its best. To learn more about how phototherapy can be used to address your skin condition, contact our office today and schedule a consultation.
OTHER Medical DERMATOLOGY
Thousands of People in the Metro Area Trust
Scherl Dermatology
CONTACT US
Scherl Dermatology
140 Sylvan Ave. Suite 302,
Englewood Cliffs, NJ 07632
Same-Day Appointments Now Available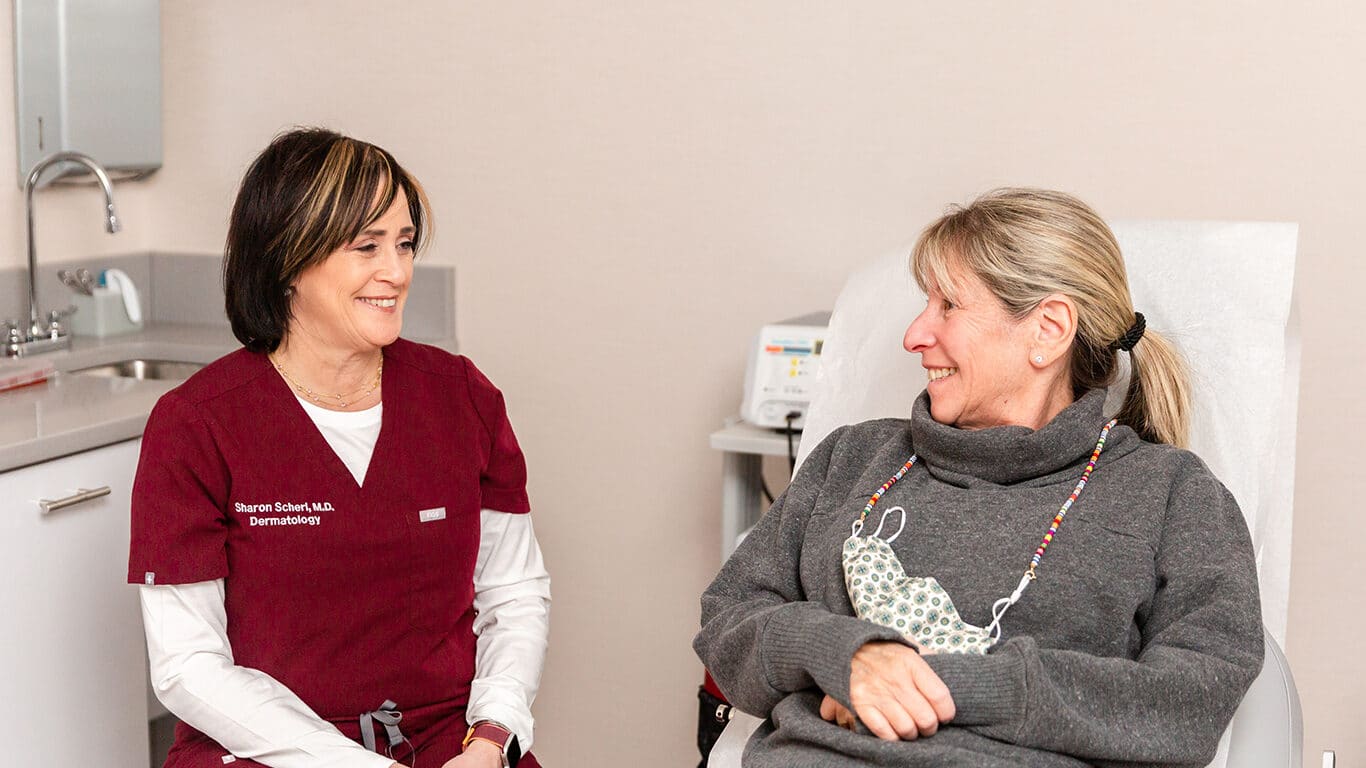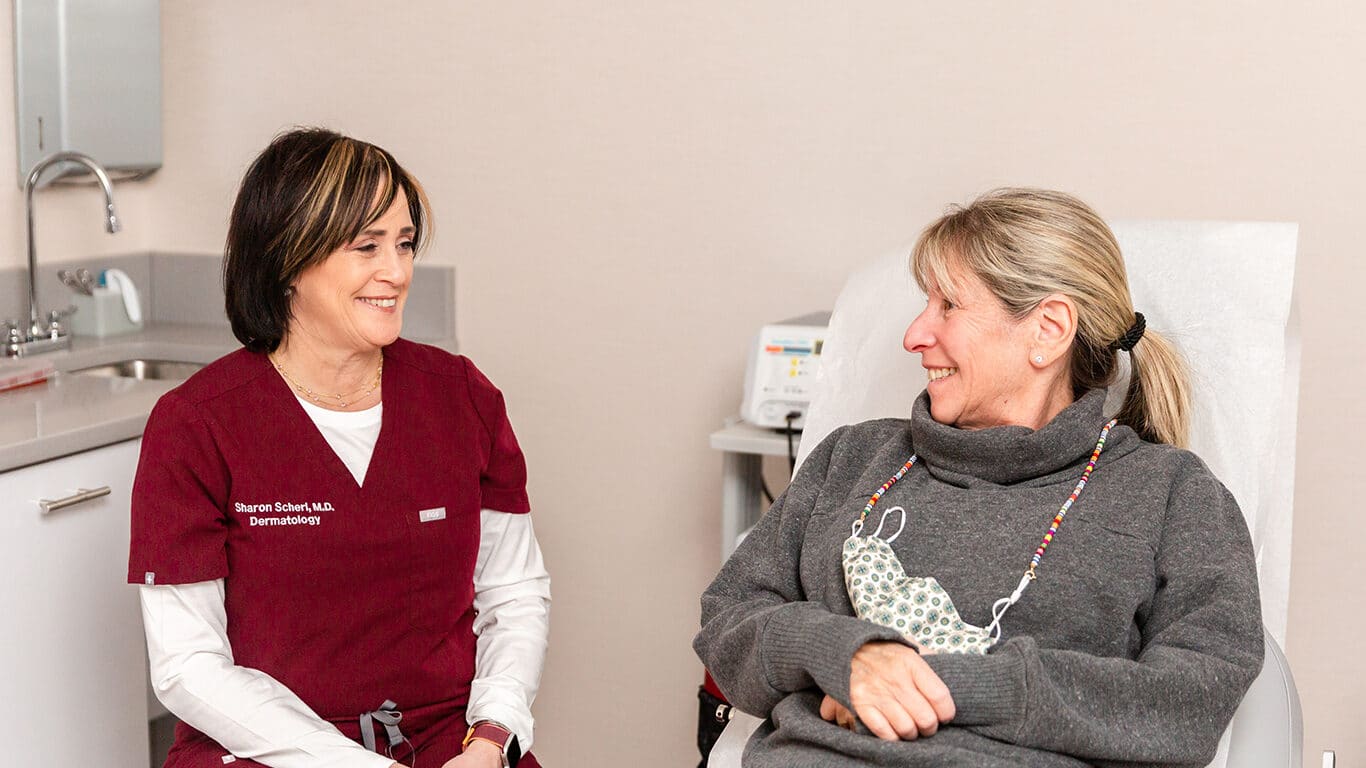 CONTACT US
Scherl Dermatology
140 Sylvan Ave. Suite 302,
Englewood Cliffs, NJ 07632
Same-Day Appointments Now Available
By Scherl Dermatology | © [datetoday] All Rights Reserved. Design & Development by Goldman Marketing Group | Sitemap | Privacy Policy | The information available on this web site is provided for informational purposes only. This information is not intended to replace a medical consultation where a physician's judgment may advise you about specific disorders, conditions and or treatment options. We hope the information will be useful for you to become more educated about your health care decisions. If you are vision-impaired or have some other impairment covered by the Americans with Disabilities Act or a similar law, and you wish to discuss potential accommodations related to using this website, please contact us at 201.584.5253.