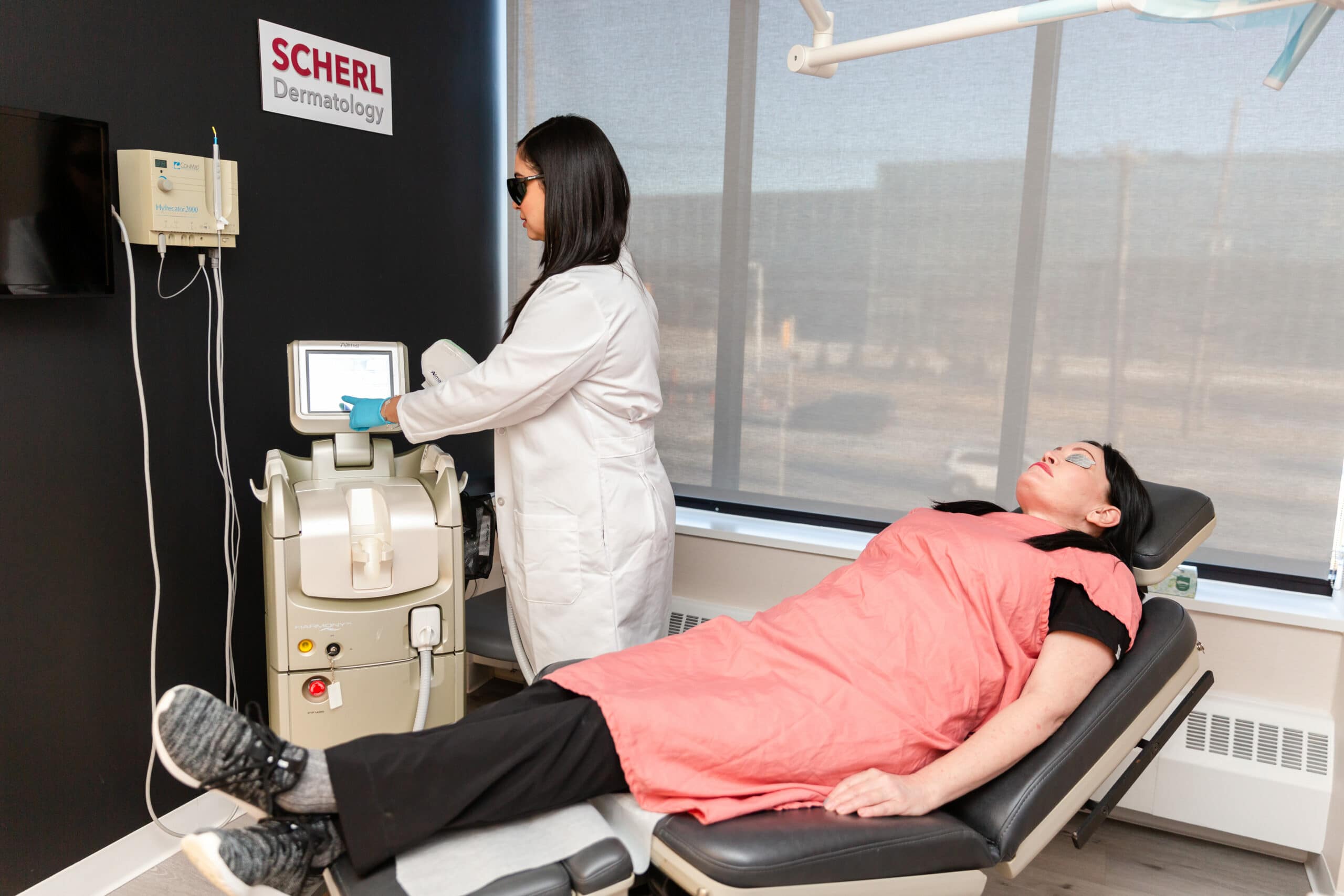 Rosacea Treatment in Englewood Cliffs, NJ
Rosacea (rose-AY-sha) is a common skin disease that often begins with a tendency to blush or flush more easily than other people.
The redness from rosacea can slowly spread beyond the nose and cheeks to the forehead and chin. Even the ears, chest, and back can be red all the time.
Rosacea can cause more than redness. There are so many signs and symptoms that rosacea has four subtypes:
Erythematotelangiectatic rosacea: Redness, flushing, visible blood vessels.

Papulopustular rosacea: Redness, swelling, and acne-like breakouts.

Phymatous rosacea: Skin thickens and has a bumpy texture.

Ocular rosacea: Eyes red and irritated, eyelids can be swollen, and person may have what looks like a sty.
With time, people who have rosacea often see permanent redness in the center of their face.
If you are living with rosacea, you are in good company. Some famous people have struggled with rosacea:
Bill Clinton.
Diana, Princess of Wales.
W.C. Fields (a film star in the 1920s and 1930s). 
Rosacea causes more than a red face. There are many signs (what you can see) and symptoms (what a person feels) of rosacea.
Because rosacea has so many signs and symptoms, scientists created 4 subtypes of rosacea. Some people have more than one rosacea subtype at the same time. Each subtype requires different treatment.
SUBTYPE 1: Facial Redness, Flushing, Visible Blood Vessels
Signs and Symptoms
Flushing and redness in the center of the face
Visible broken blood vessels (spider veins)
Swollen skin
Skin may be very sensitive
Skin may sting and burn
Dry skin, roughness or scaling
Have a tendency to flush or blush more easily than other people
SUBTYPE 2: Acne-Like Breakouts
Signs and Symptoms
Acne-like breakouts, usually where the skin is very red
Acne-like breakouts tend to come and go
Oily skin
Skin may be very sensitive
Skin may burn and sting
Visible broken blood vessels (spider veins)
Raised patches of skin called plaques (plaks)
SUBTYPE 3: Thickening Skin
Signs and Symptoms
 This subtype is rare. When it does occur, the person often has signs and symptoms of another subtype of rosacea first.
The signs of this subtype are:
Bumpy texture to the skin
Skin begins to thicken, especially common on the nose. When the skin thickens on the nose, it is called rhinophyma (rye-NO-fie-ma)
Skin may thicken on the chin, forehead, cheeks, and ears
Visible broken blood vessels appear
Pores look large
Oily skin
SUBTYPE 4: In the Eyes
Signs and Symptoms

Some people get rosacea in their eyes.
The eyes may have one or more of the following:
Watery or bloodshot appearance
Feel gritty, often feels like sand in the eyes
Eyes burn or sting
Eyes are very dry
Eyes itch
Eyes sensitive to light
Blurry vision
Visible broken blood vessels on an eyelid
Cyst on the eyelid
Person cannot see as well as before
How Rosacea Can Affect Your
Quality Of Life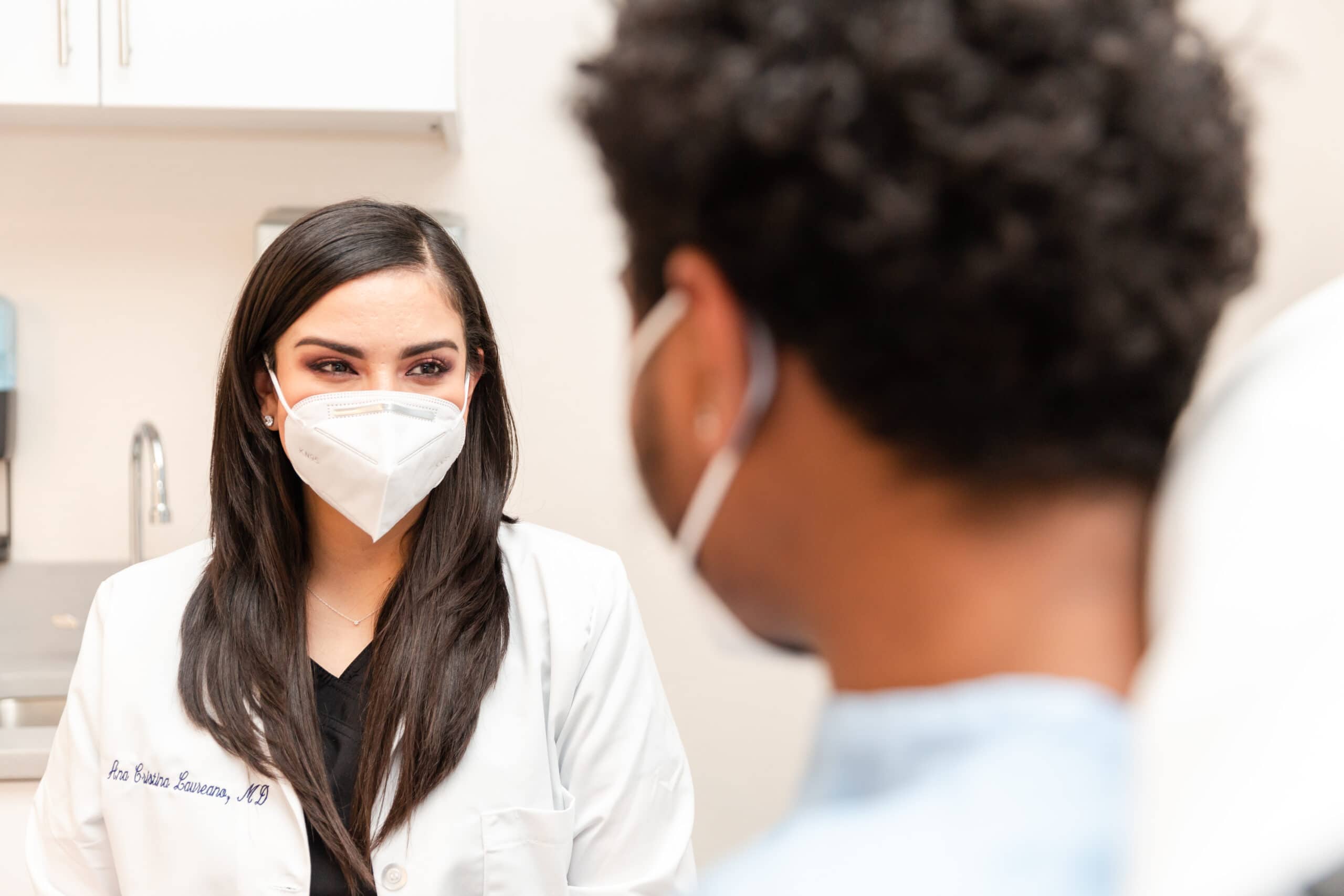 Rosacea can affect more than the skin and eyes. Because rosacea is a chronic (long-lasting) skin disease, it can reduce a person's quality of life. Many people report problems at work, in their marriage, and with meeting new people. Surveys and studies report that living with rosacea can cause:
Feelings of frustration and embarrassment: In surveys conducted by the National Rosacea Society, 41 percent said their rosacea caused them to avoid public contact or cancel social engagements.
Worry: People worry that their rosacea will get worse or cause scars. People worry about side effects from medicine used to treat rosacea.
Low self-esteem: Surveys conducted by the National Rosacea Society found that almost 70 percent of people living with rosacea said that the condition lowered their self-confidence and self-esteem.
Work-related problems: Surveys conducted by the National Rosacea Society find that when rosacea is severe, 70 percent of people say the disease affects their interactions at work. Nearly 30 percent say that rosacea causes them to miss work.
Anxiety and depression: Living with a skin condition that flares unexpectedly can cause people to believe you have a drinking problem. This can cause anxiety and depression.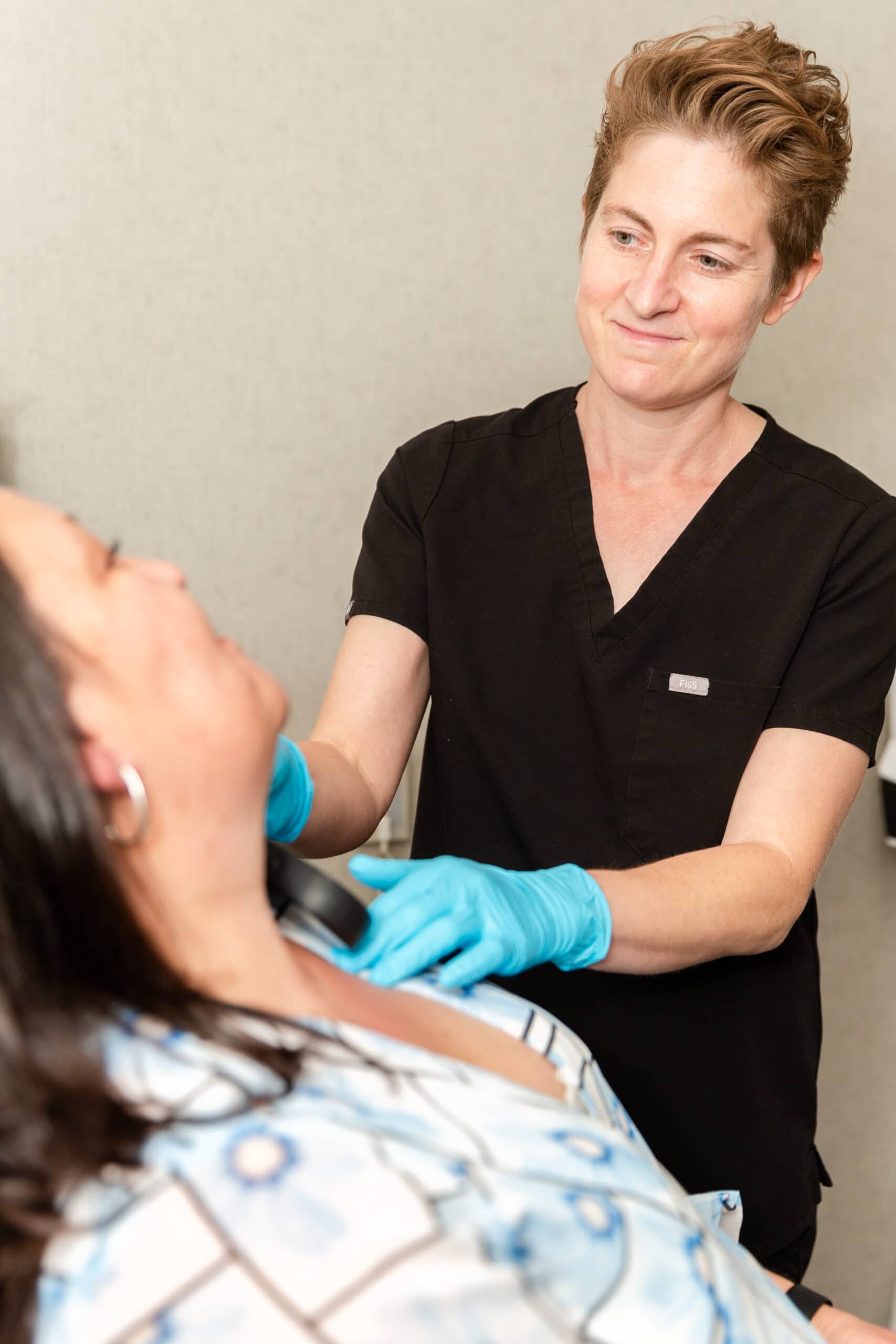 Treatment seems to improve a person's quality of life. Studies show that when people have fewer signs and symptoms of rosacea, their quality of life improves.
Treatment for the skin includes:
Medicine that is applied to the rosacea.
Sunscreen (Wearing it every day can help prevent flare-ups).
An emollient to help repair the skin.
Lasers and other light treatments.
Antibiotics (applied to the skin and pills).
Dermatologists can remove the thickening skin that appears on the nose and other parts of the face with:

Lasers.
Dermabrasion (procedure that removes skin).
Electrocautery (procedure that sends electric current into the skin to treat it).
When rosacea affects the eyes, a dermatologist may give you instructions for washing the eyelids several times a day and a prescription for eye medicine. 
There is no cure for rosacea. People often have rosacea for years.  
In one study, researchers asked 48 people who had seen a dermatologist for rosacea about their rosacea. More than half (52 percent) had rosacea that came and went. These people had had rosacea for an average of 13 years. The rest of the people (48 percent) had seen their rosacea clear. People who saw their rosacea clear had rosacea for an average of 9 years.
Some people have rosacea flare-ups for life. Treatment can prevent the rosacea from getting worse. Treatment also can reduce the acne-like breakouts, redness, and the number of flare-ups.
To get the best results, people with rosacea also should learn what triggers their rosacea, try to avoid these triggers, and follow a rosacea skin-care plan.
LEARN MORE AT YOUR CONSULTATION IN ENGLEWOOD CLIFFS, NJ TODAY
Rosacea is more than facial flushing and redness. Severe redness and visible blood vessels can diminish your self-esteem and overall quality of life. For more information, contact our office today to schedule your consultation.
Eczema
Eczema is a word that means irritated skin. Doctors don't really know why some kids and adults get eczema, and others don't. They think it might happen for a variety of reasons.
Thousands of People in the Metro Area Trust
Scherl Dermatology
CONTACT US
Scherl Dermatology
Same-Day Appointments Now Available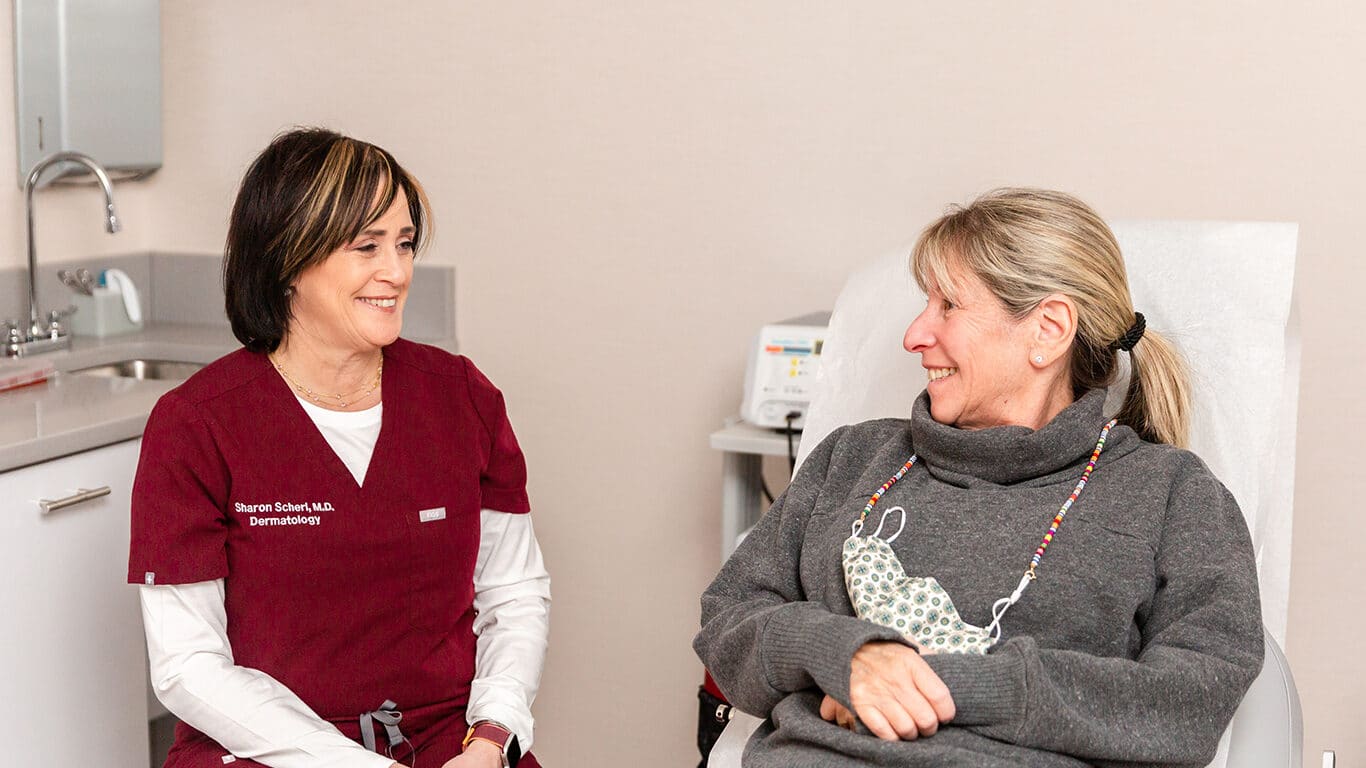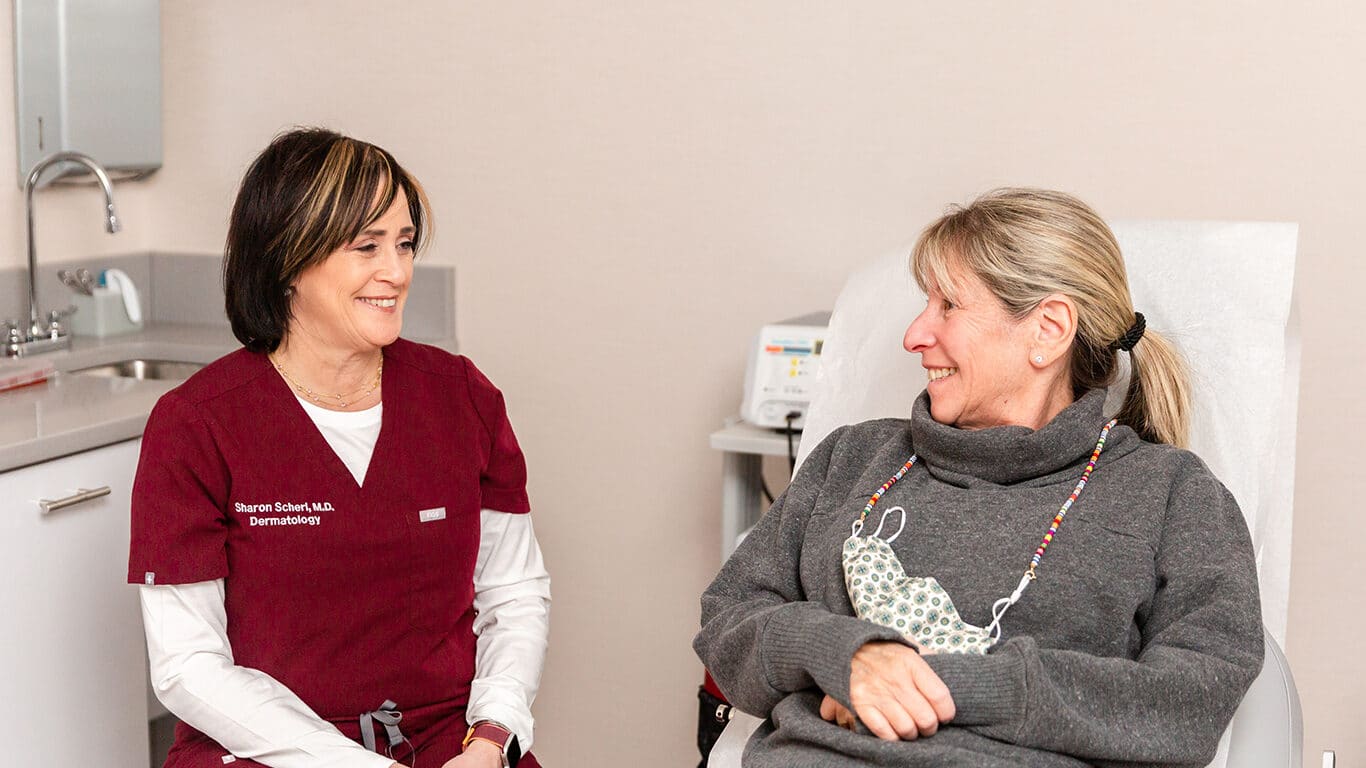 CONTACT US
Scherl Dermatology
140 Sylvan Ave. Suite 302,
Englewood Cliffs, NJ 07632
Same-Day Appointments Now Available
By Scherl Dermatology | ©2023 All Rights Reserved. Design & Development by Goldman Marketing Group | Sitemap | Privacy Policy | The information available on this web site is provided for informational purposes only. This information is not intended to replace a medical consultation where a physician's judgment may advise you about specific disorders, conditions and or treatment options. We hope the information will be useful for you to become more educated about your health care decisions. If you are vision-impaired or have some other impairment covered by the Americans with Disabilities Act or a similar law, and you wish to discuss potential accommodations related to using this website, please contact us at 201.584.5253.