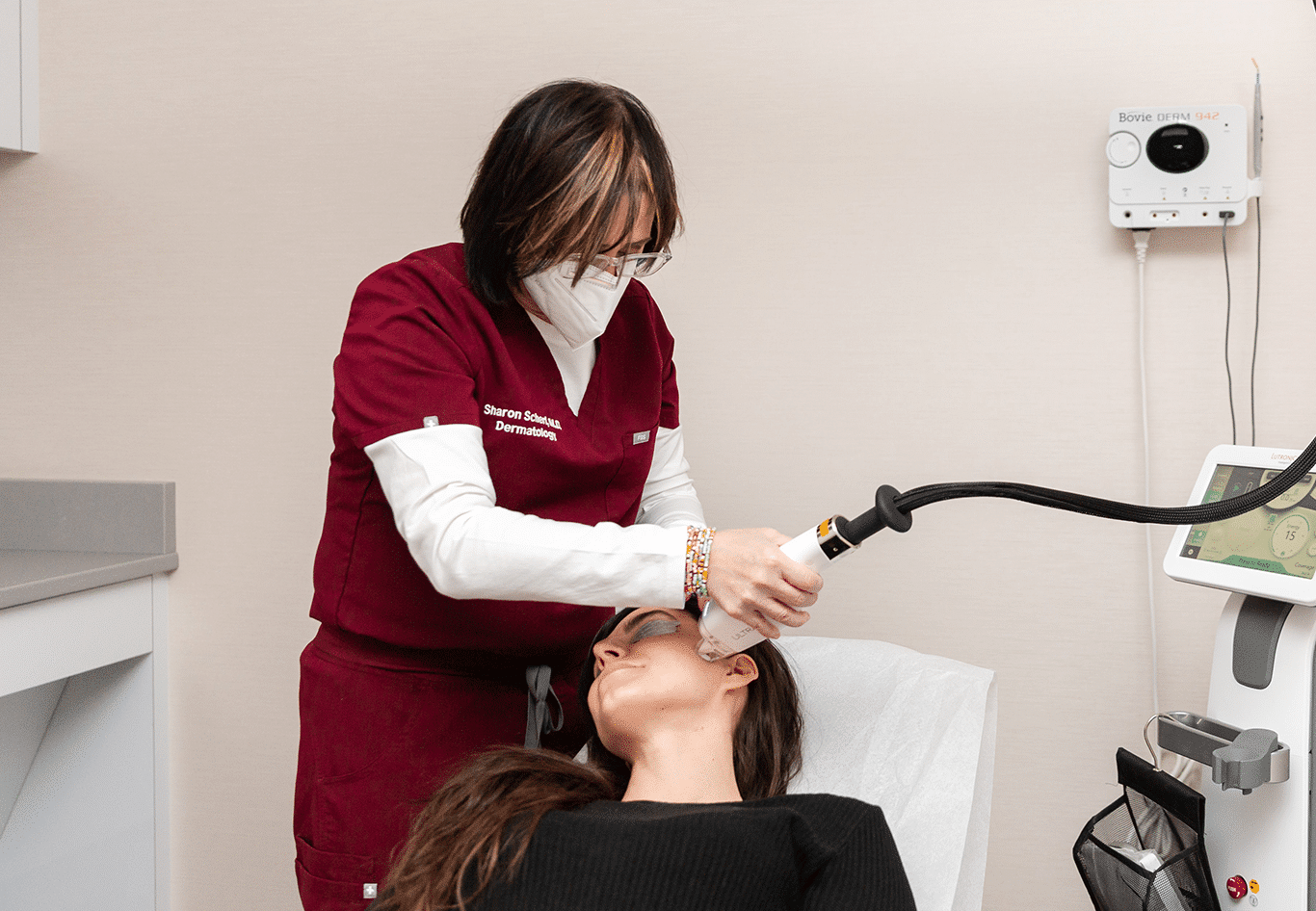 Laser Skin Resurfacing
in Englewood Cliffs, NJ
Laser skin resurfacing is a non-surgical, comprehensive skin rejuvenation treatment that we customize to your precise needs to address signs of aging and other skin concerns.
Results Duration: Long-Lasting
Treats:
Fine lines and wrinkles, sun damage, age spots, some types of scars, hyperpigmentation, enlarged pores, uneven skin texture and tone, skin laxity
Side Effects:
Temporary redness, swelling, warmth, and dryness
Location:
Most commonly used on the face
Follow Up:
Some patients may need a series of treatment sessions to achieve optimal results
How Performed:
Handpiece delivers beams of laser energy into the skin via microchannels
Preparation:
Topical or local anesthetic applied prior to treatment
Expected Outcome:
Reduction of signs of aging and sun damage, and enhanced skin texture and tone
Onset:
Initial results are visible within a few days, and full results are achieved once the skin has fully healed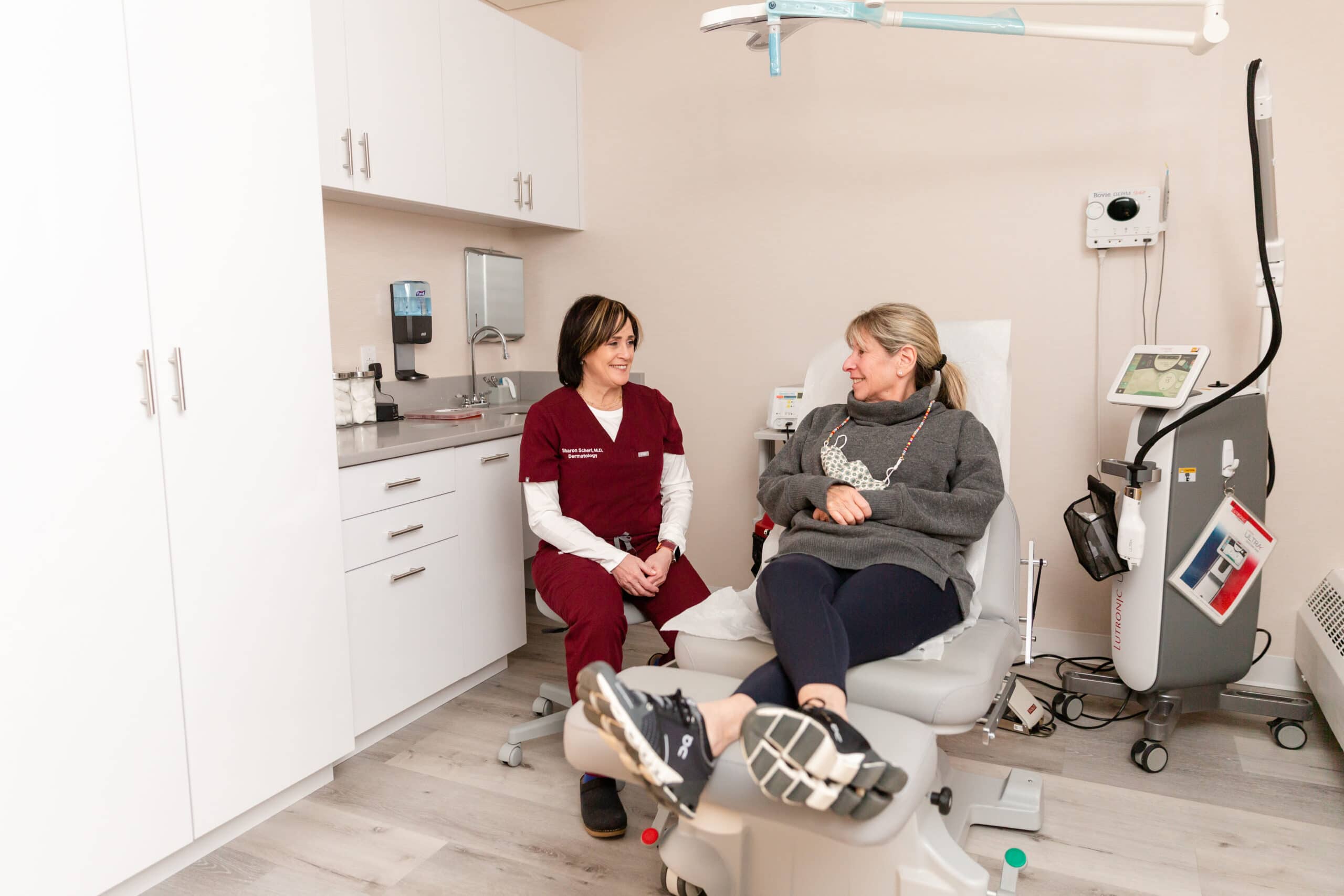 How can laser skin resurfacing help me?
Laser resurfacing targets and addresses the following skin concerns:
Fine lines or wrinkles around or under your eyes, forehead, or mouth
Some types of scars
Aged or sun-damaged skin
Skin discoloration
Liver spots
Warts
Enlarged oil glands on the nose
Laser resurfacing treatments offered
Scherl Dermatology offers the following laser resurfacing treatments:
LaseMD Ultra. This device features a 1927nm wavelength to rejuvenate the skin at a cellular level. It creates microchannels in the skin, stimulates the body's natural healing process, and produces new collagen to smooth and improve the skin over time.
Intense Pulsed Light (IPL): IPL uses multiple wavelengths of light to improve the skin's texture. A Fotofacial treatment (full-face IPL treatment) improves the appearance of fine lines, brown spots, large pores, and sun-damaged and aged skin, as well as reduces facial redness and flushing.
CO2 Laser. This is one of the most aggressive forms of laser resurfacing. This treatment uses a fractional device, which is different from the standard ablative laser resurfacing that vaporizes the entire upper layer of skin. Fractional lasers punch micro-holes in the skin, but much of the skin is not injured. The skin tightens as collagen between the treated holes in the skin contracts, enhancing the skin's overall appearance.
The laser resurfacing procedure at Scherl Dermatology
1 Consultation
Facial laser resurfacing procedures are performed on an outpatient basis using topical numbing cream or injectable anesthetics. Depending on your laser procedure, we will discuss your anesthesia options before treatment.
2 Procedure
You will be given eye shields to protect your eyes during the procedure. Then, your dermatologist will slowly pass a handheld device over the treatment area to deliver energy directly to your skin. You may feel a gentle pressure or a warm or tingling sensation.
Some patients describe the experience as like the snapping of a rubber band against the skin. Many laser devices also include integrated cooling mechanisms to enhance patient comfort.
A session typically takes less than 30 minutes to perform. The total procedure time depends on the device used and the treatment area's size.
3 Aftercare Instructions
Aftercare instructions include sun avoidance and emollients to keep the skin moist and protected. Written instructions will be provided following your treatment.
4 Follow Up
Patients may require multiple treatment sessions to achieve optimal results. Your dermatologist will assess your skin to customize the best treatment plan for your goals.
Why choose Scherl Dermatology for your laser resurfacing?
You gain access to the latest, most innovative treatments in medical and cosmetic dermatology.
You can receive treatment for a wide range of medical and cosmetic concerns.
You receive personalized patient care that addresses your unique needs.
Your treatment is delivered by highly trained and caring physicians who specialize in helping patients achieve healthy and beautiful skin.
You can schedule same-day appointments.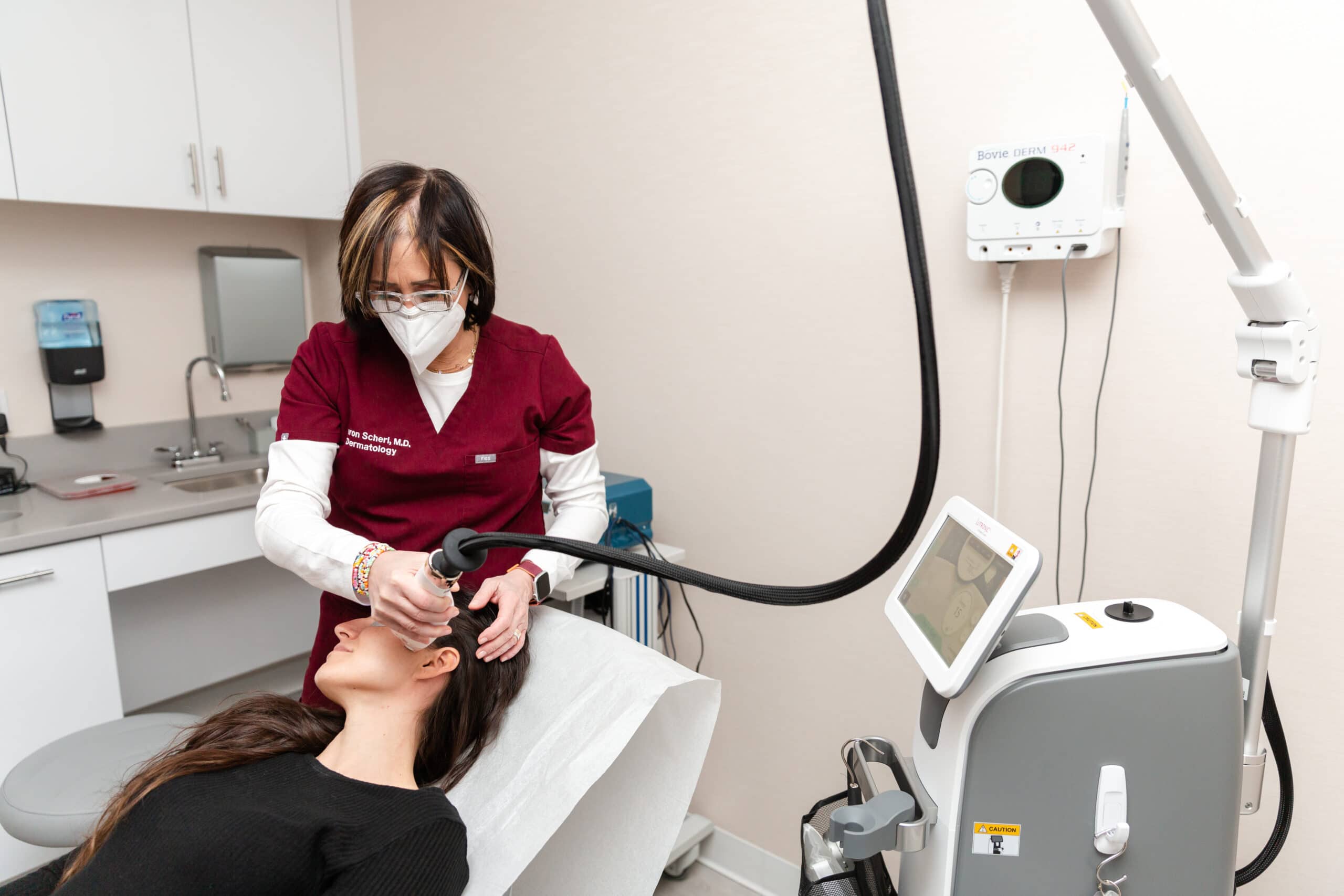 Schedule laser skin resurfacing in Englewood Cliffs, NJ
Laser resurfacing is a safe and effective way to rejuvenate the skin on your face without surgery. If you would like to learn more about this or any of our other cosmetic treatments, contact Scherl Dermatology today to schedule your consultation.
OTHER COSMETIC DERMATOLOGY
Sculptra
Sculptra is a volumizer to help restore youth by giving back the volume we lose due to loss of fat and bone in the face. Sculptra is Poly-L-lactic acid in suspension. 
Thousands of People in the Metro Area Trust
Scherl Dermatology
CONTACT US
Scherl Dermatology
Same-Day Appointments Now Available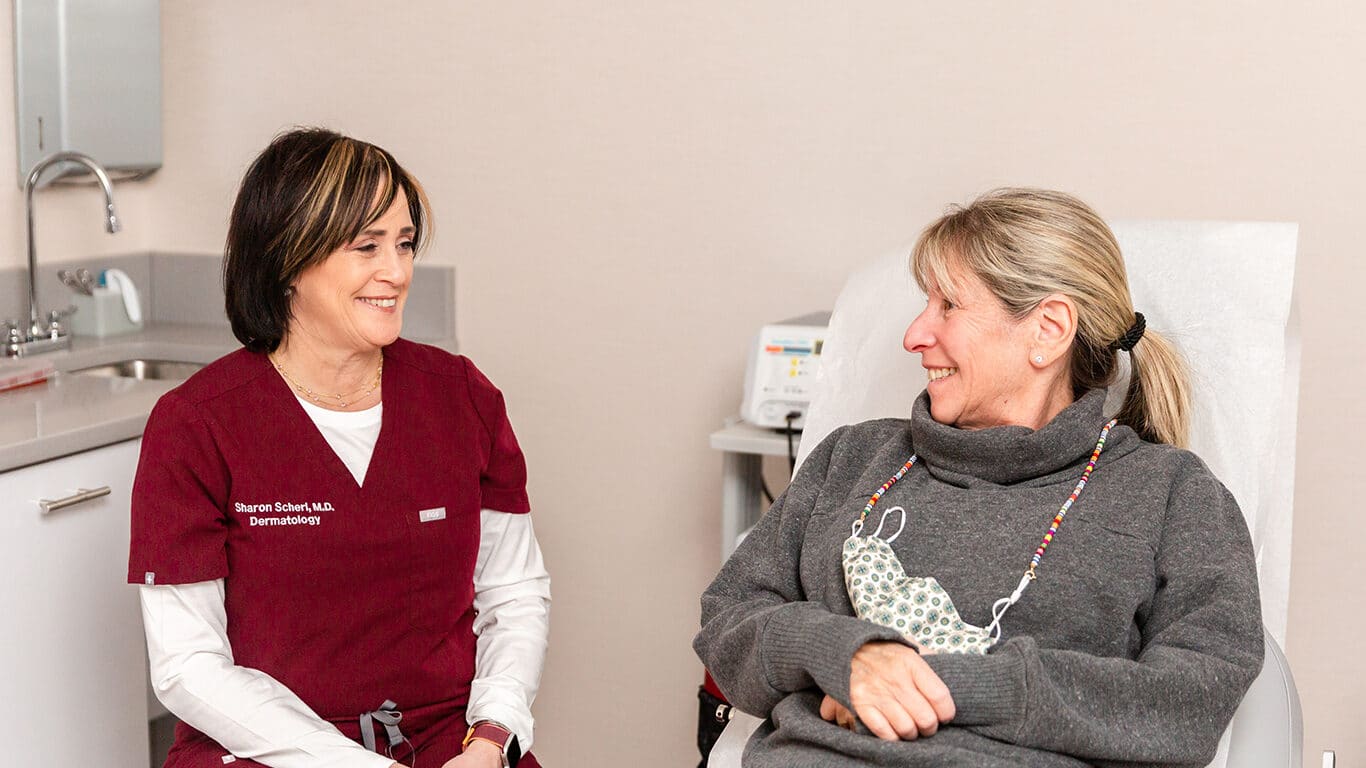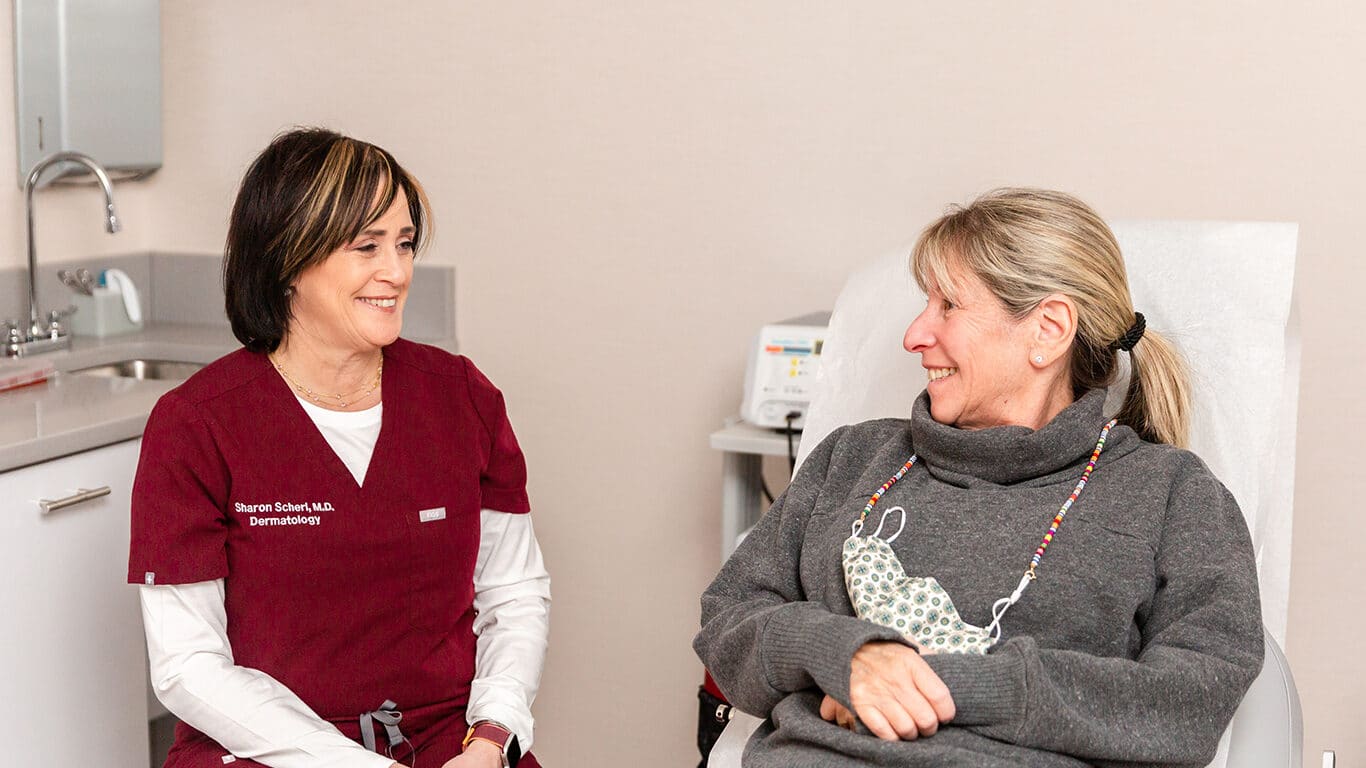 CONTACT US
Scherl Dermatology
140 Sylvan Ave. Suite 302,
Englewood Cliffs, NJ 07632
Same-Day Appointments Now Available
By Scherl Dermatology | ©2023 All Rights Reserved. Design & Development by Goldman Marketing Group | Sitemap | Privacy Policy | The information available on this web site is provided for informational purposes only. This information is not intended to replace a medical consultation where a physician's judgment may advise you about specific disorders, conditions and or treatment options. We hope the information will be useful for you to become more educated about your health care decisions. If you are vision-impaired or have some other impairment covered by the Americans with Disabilities Act or a similar law, and you wish to discuss potential accommodations related to using this website, please contact us at 201.584.5253.