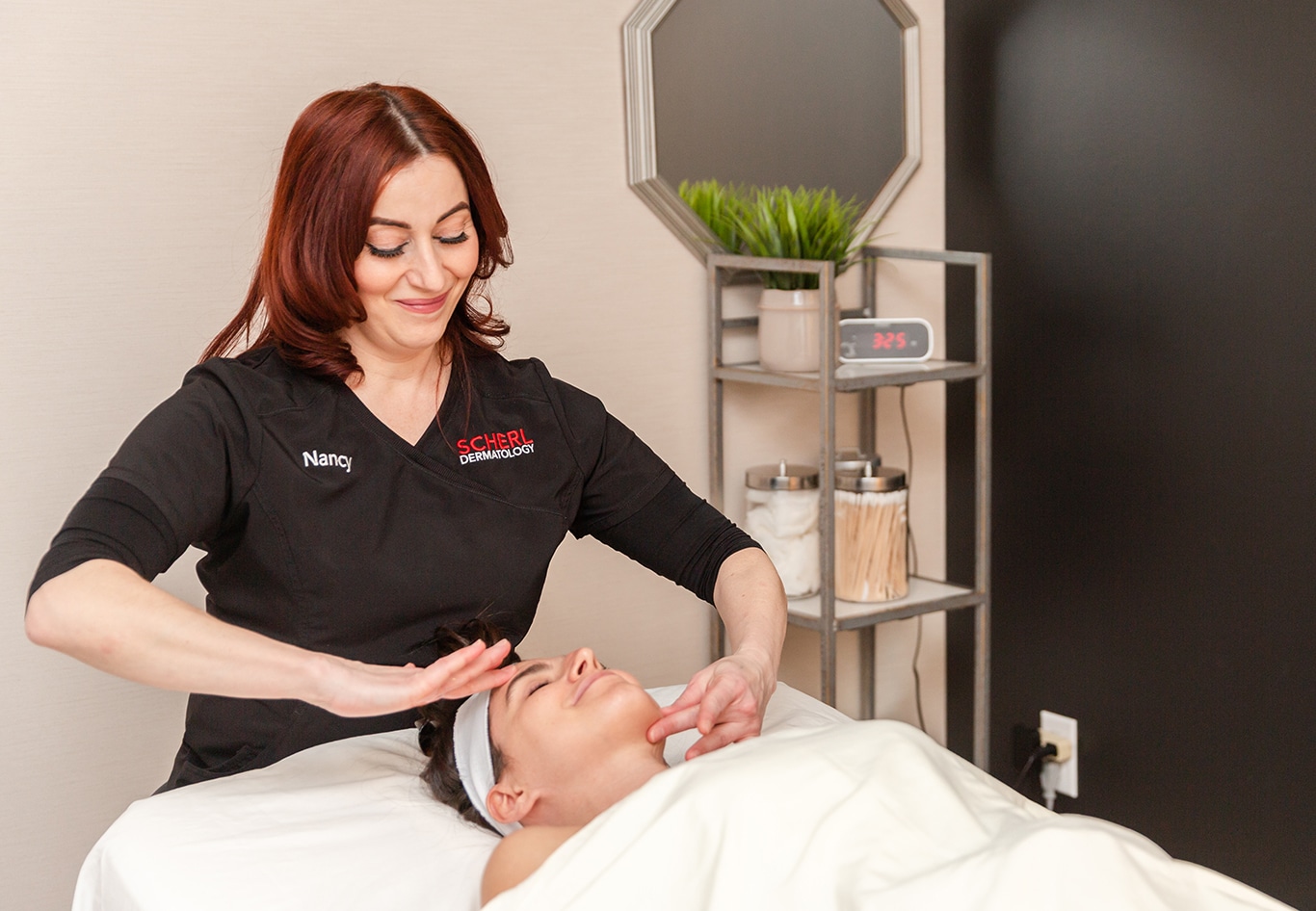 Scherl Dermatology offers medical-grade facial and skin treatments from our highly-trained medical aesthetician Nancy Desics. These treatments can be used in combination with other medical or cosmetic procedures offered in our office.
30 minutes $65
The Teen Treatment helps adolescents put their best face forward with clearer skin. It features a thorough cleaning, exfoliation, extraction and bacteria fighting method to target breakouts resulting from stress, sports, and growing up. A perfect compliment to dermatological treatments, medications, and regimens. 
60 minutes $85
The Signature Facial begins with thorough analysis of the skin followed by customized treatments including exfoliation, extractions, massage, mask and finishing products such as toner, moisturizer, and sunscreen. Results: refreshed, hydrated skin.
60 minutes $110
Customizable to treat dullness, aging, acne, or pigmentation concerns, the Speciality Facial offers the same benefits of Signature Facial with the addition of potent serums and a light, symptom-appropriate peel with little to no downtime. Results: skin that is clean and glowing. 
60 minutes $120
This facial utilizes the age-old technique of gua sha to gently pass over meridian channels of the face, neck and decollete. The jade stone massage tool reaches the lower levels of connective tissue, or fascia, improving blood flow. Results: reduced puffiness and sculpted facial contours. 
60 minutes $125
A medium frequency device that infuses moisture into the skin with either a warming energy to create more supple skin or a cold energy to reduce redness and irritation. A fantastic post laser or resurfacing companion treatment. Results: smoothed, deeply hydrated skin. 

60 minutes $125
A pore cleansing powerhouse, the Jet Peel uses a high powered steam of purified water and oxygen to effectively yet gently exfoliate and flush enlarged, clogged pores. The power washing is followed by a micronized serum infusion. Results: glowing, clean skin. 
45-60 minutes $200
The medical grade microdermabrasion device with diamond-coated tip allows for a precision exfoliation that polishes away the uppermost layer of skin. Enhanced suction strength makes DT2 superior for resurfacing the face and body. Results: smoother, more radiant complexion with fewer fine lines and reduced acne scarring. 
Add: Signature Facial $50
45-60 minutes $225
Take your diamond tip microdermabrasion to the next level by combining it with a hydro wand that resurfaces as it infuses a customized serum. Serums can include hyaluronic acid for dryness, multiacid + vitamins for brightness or salicylic or glycolic acids for acne. Results: targeted resurfacing with customized treatment benefits.
Add: Signature Facial $50 
60 minutes $125
Dermaplaning involves the manual removal of dead skin and vellus facial hair to reveal a fresher complexion. Treatment can also be combined with a light facial peel to accentuate your new glow. Results: vivid, brighter skin. 
Add: Peel $25
Crystal Tip Microdermabrasion
60 minutes $125
Light, chemical-free gentle microdermabrasion. The process removes epidermal dry, dull skin. Results: smoother canvas with refined pores. 
60 minutes $325-$500
Forma uses radiofrequency power that flows uniformly into the skin. Radiofrequency energy heats the skin, stimulating a thermal contraction for tightening and the formation of new collagen. Results; Tighter, more plump skin with optimized circulation. 
Eyelash & Eyebrow Treatments
$85
Eyelash Lift lifts lashes and creates an intense, wide-eyed look. The lift gives a U-shaped curl and makes lashes look significantly longer and fuller. 

Brow, Lash Tint & Lash Lift
$115
$35
A new and innovative brow color enhancement. The treatment lasts for 3 weeks and is available in 7 different colors which can be mixed to provide customizable shades. Adds rich color and depth to lackluster or grey eyebrows. 

LEARN MORE AT YOUR SKIN REFRESH CONSULTATION IN ENGLEWOOD CLIFFS, NJ TODAY
Aesthetic treatments can enhance the appearance of your skin without downtime. If you would like to learn more about our aesthetic treatments or other skin rejuvenation techniques, contact our office today to schedule your consultation.
OTHER COSMETIC DERMATOLOGY
SculpSure
SculpSure is an innovative treatment to reduce stubborn pockets of fat with minimal pain and downtime. Each treatment takes just 25 minutes, making SculpSure the perfect solution for individuals with busy schedules.
Sculptra
Sculptra is a volumizer to help restore youth by giving back the volume we lose due to loss of fat and bone in the face. Sculptra is Poly-L-lactic acid in suspension. 
Thousands of People in the Metro Area Trust
Scherl Dermatology
CONTACT US
Scherl Dermatology
Same-Day Appointments Now Available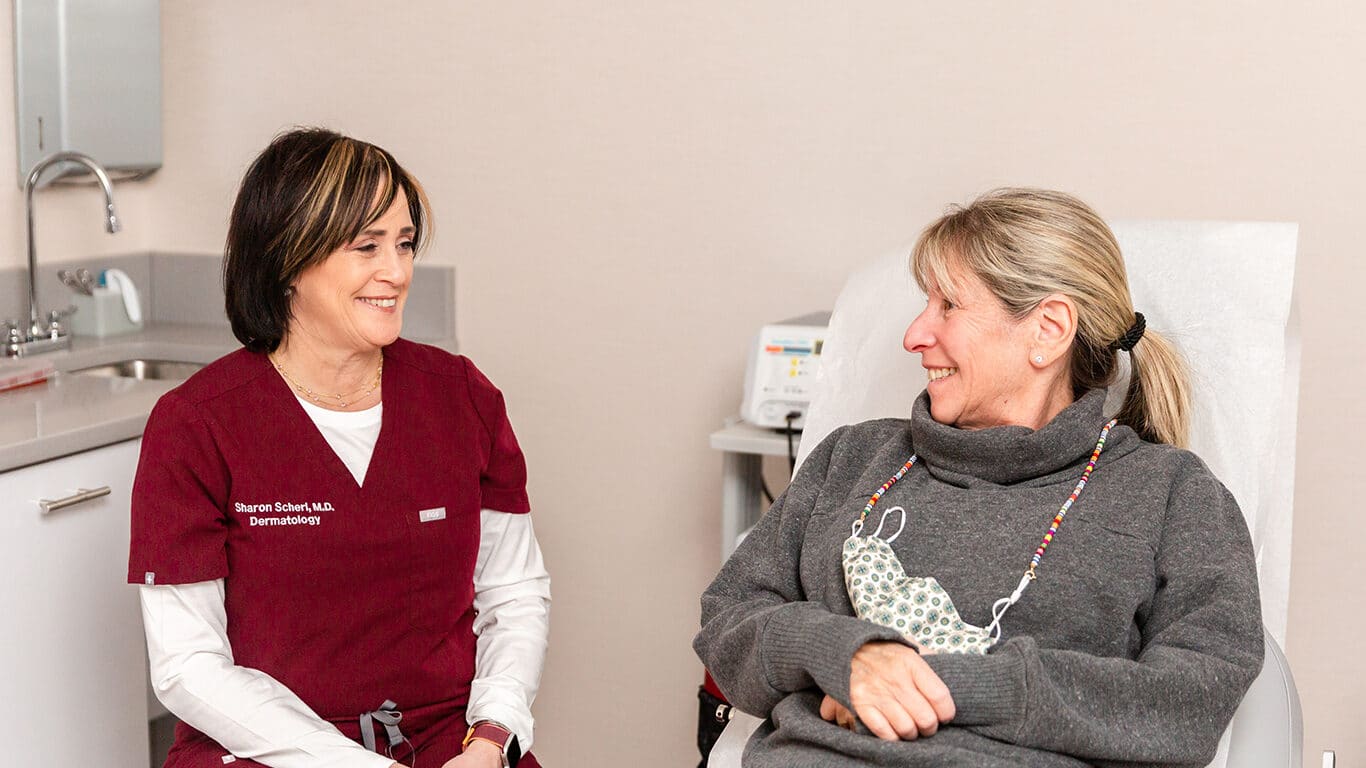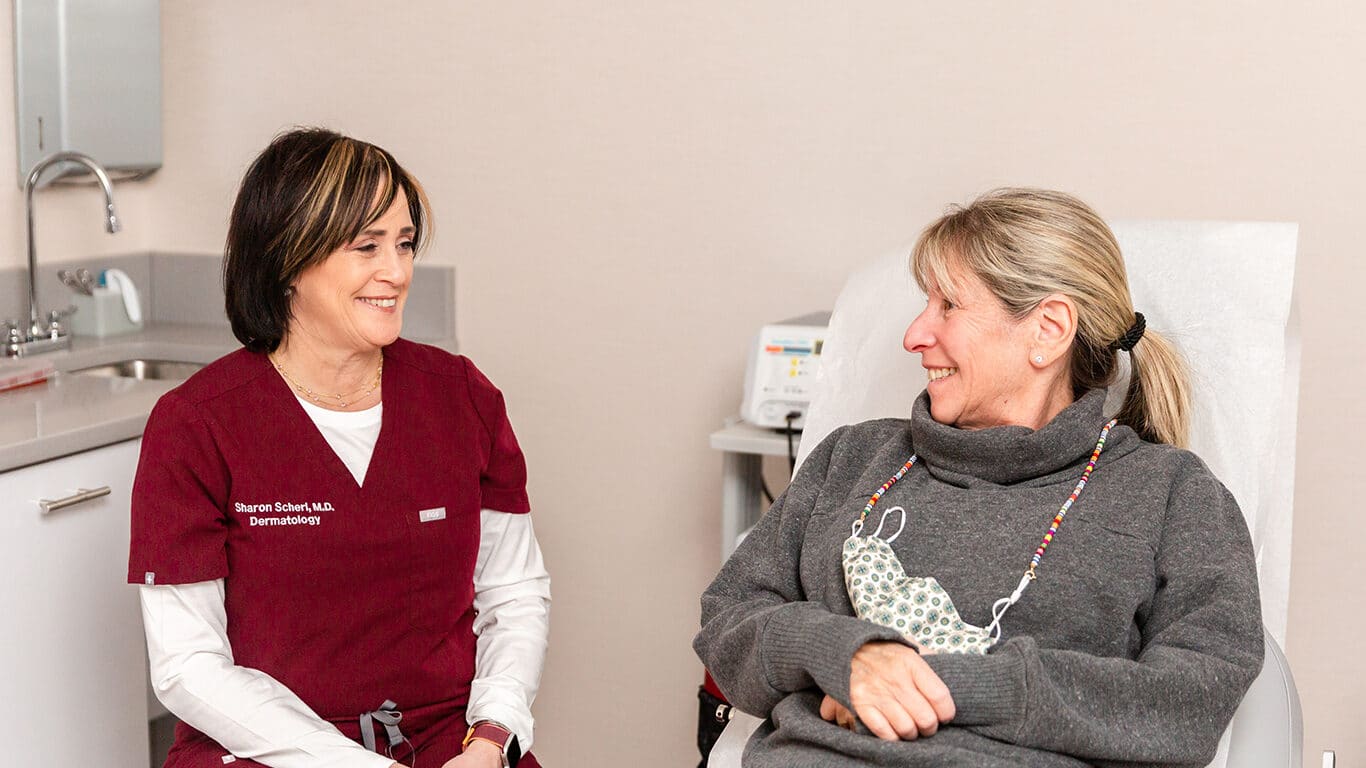 CONTACT US
Scherl Dermatology
140 Sylvan Ave. Suite 302,
Englewood Cliffs, NJ 07632
Same-Day Appointments Now Available
By Scherl Dermatology | ©2023 All Rights Reserved. Design & Development by Goldman Marketing Group | Sitemap | Privacy Policy | The information available on this web site is provided for informational purposes only. This information is not intended to replace a medical consultation where a physician's judgment may advise you about specific disorders, conditions and or treatment options. We hope the information will be useful for you to become more educated about your health care decisions. If you are vision-impaired or have some other impairment covered by the Americans with Disabilities Act or a similar law, and you wish to discuss potential accommodations related to using this website, please contact us at 201.584.5253.